SYBHEL Short Story Competition – Free E-Book of Short Listed Stories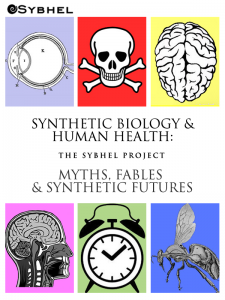 The deadline for the SYBHEL Project's short story competition has now passed. The shortlisted entries have been collected together with an introductory essay on the ethical implications of synthetic biology and published as a kindle e-book. The e-book is available to download FREE from this site [click here] (instructions below). Or  the e-book can be purchased for the minimum price of 77p from Amazon [click here] (unfortunately Amazon insists on a minimum price).
After reading the stories, please take the time to vote for your favorite. You can vote by clicking on your favorite from the list in the column on the left of this page.
Instructions for downloading:
1. Click on the link [click here].
2. Unzip the file
3. Connect kindle to your computer
4. Copy file from your computer to the kindle -  file named "documents"
No kindle? You can download a PDF version by clicking on the cover image above.
Synthetic Biology & Human Health: Myths, Fables & Synthetic Futures
Calling all writers, film makers, animators and artists – do you have a story to tell about the impact synthetic biology may have on future people?
Throughout history people have used their imaginations to create stories. While stories often entertain, they are also used to make sense of human experience and gain insight into philosophical questions. In the 20th century, writers such as Huxley, Orwell, Burgess and Ballard have employed futuristic narratives to explore the philosophical, psychological and moral issues raised by the interaction between technology and society.
The possible health advances from the emerging science of synthetic biology may have a significant impact on both our lives and the lives of future people. It may result in medical applications which affect human experience and the sorts of people who come in to existence. It may lead to new ways of treating diseases, such as targeted cancer treatments, which could radically extend the human lifespan. Or, it could give us new psychopharmaceuticals which allow us, or other people to change our emotions and psychological states. It may also lead to people having new physical capabilities and powers which human beings have never had before
The SYBHEL Project is instigating a short story competition in order to imaginatively consider these sorts of issues through the creation of fictional narratives. We are interested in stories told using a range of different media including, writing, film, animation, graphic novels, spoken word or music. If you would like to enter and see the prizes on offer please visit www.sybhel.org for further information, you can also follow us on twitter @SYBHEL_Project.
Prize:
1st Prize £100
Two 2nd Prizes £50
In addition to the cash prize there will also be an opportunity for shortlisted stories to be published in some form on the SYBHEL website. Winners may also have the opportunity to be invited to the final SYBHEL Project event.
Format:
As the name suggests, the SYBHEL Project Short Story competition is interested primarily in the substance of the story or narrative rather than the medium through which it is expressed. As such we are interested in stories told through a variety of different media. However, we are also interested in short stories rather than epics. As such the following rules apply:
Writing: Short stories (prose or poetry) should be a maximum of 3000 words. Stories should be submitted in word (.doc or .docx) format by email to: sybhel-project@bristol.ac.uk.
Stories should be double spaced, include page numbers and a word count should be noted at the top of the first page. Poems can be single spaced.
Film & Animation: Short films should be a maximum of 10 minutes long and be provided in .av or .wmv format. Please submit them by uploading your video to vimeo.com – please classify your video as private, and then email the private link to:  sybhel-project@bristol.ac.uk.
Graphic: Graphic novel type stories should be no longer than 15 pages in .doc, .docx or PDF format and should be emailed to:
sybhel-project@bristol.ac.uk
Audio: Spoken word (with or without soundscapes) or songs should be a maximum of 8 mins and be provided in .wav or mp3 format and submitted to: sybhel-project@bristol.ac.uk
Rules:
1. The story has to be related in some way to synthetic biology as it pertains to human health and well being (broadly construed). More information on the sorts of applications which might become possible and the sorts of philosophical and moral issues that might be raised can be found at www. sybhel.org
2. The competition is open to anyone, including non-UK applicants, over the age of 16.
3. Entries must be in English, or (in the case of film) have English subtitles.
4. Entries must be original, the work of the entrant and must never have been published, self-published, published on any website or public online forum, broadcast nor winning or placed in any other competition. Any material used must not infringe copyright.
5. The closing date for the competition is 23.59, 16th April 2012.
6. Worldwide copyright of each entry remains with the author. But the SYBHEL Project will have the unrestricted right to publish the winning entries and any relevant promotional material.
7. Judging will be fair and unbiased. The judge's decision is final and no individual correspondence can be entered into.
8. All entries must include a completed ENTRY FORM